What People Are Saying About DogWatch of Central Georgia
Michael and Gaye S. – Macon, GA
The DogWatch representatives were first class. They thoroughly explained the system at installation and were available to answer any questions we had afterward.
We want to hear from you! Write us a review on Google+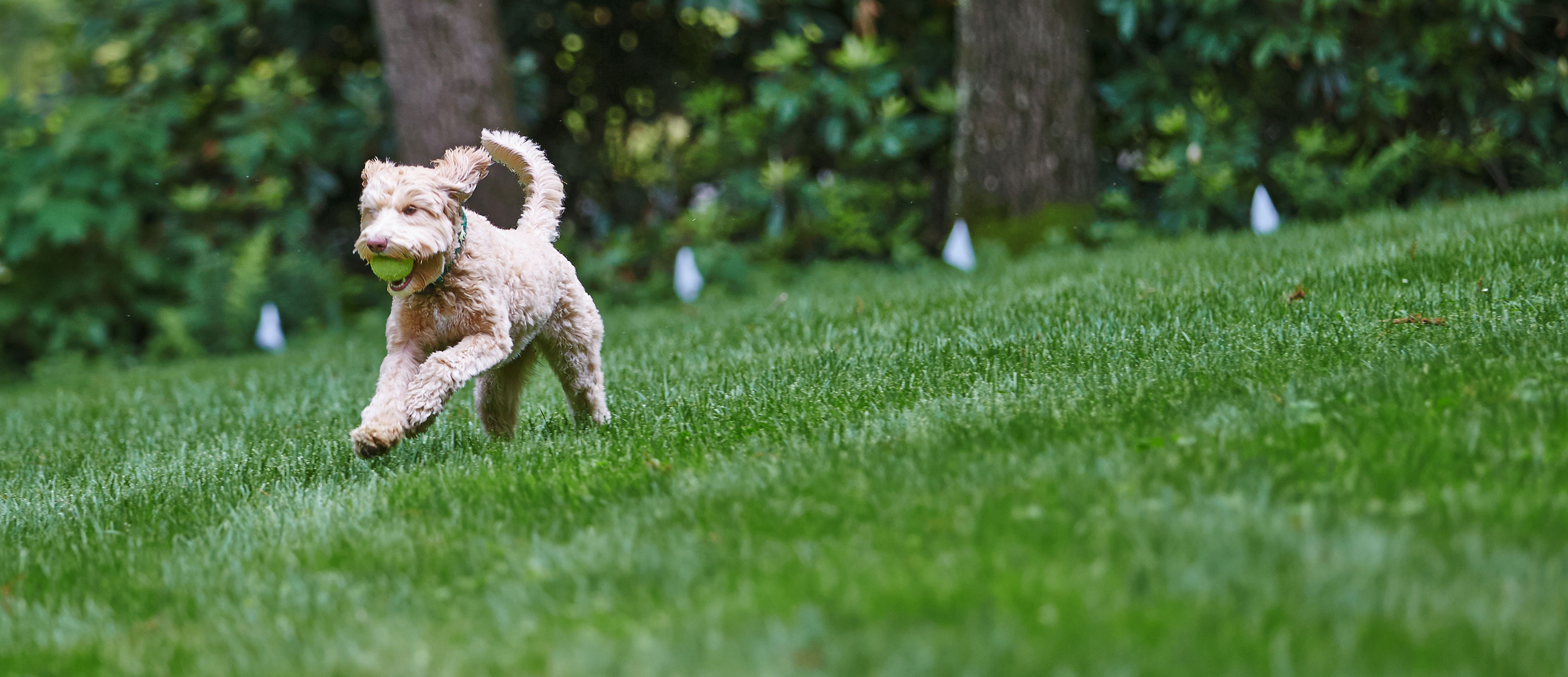 Tom & Stephanie F. – Gray, GA
An excellent product combined with SUPERB customer service! DogWatch of Central Georgia is the perfect choice!
Shannon F. – Macon, GA
Hi David-Good to hear from you. As you know I have always been pleased with you product and your service. I wouldn't use anyone else. Best of luck.
Blair & Betsy C. – Macon, GA
David and Martha are the consummate professionals. They did not only an outstanding job with the installation of our system, but have been there every time we needed them. We have had to call them on more than one occasion to change the layout of the fencing, add dogs to the system, repair damaged wires caused by other contractors & every time we call they are there. Couldn't ask for a better company or better service.
Joyce C. – Gray, GA
I am so delighted that I chose DogWatch Hidden Fences for my two dogs - Desi and Lucy. They run and play in the "fenced" area without trying to get out. They learned quickly where the boundary is and I think that is why they are so happy and playful. I have not had any trouble with my DogWatch Fence. It is just great! Thank you David and Martha!
Drs. Atul and Minni K. – Macon, GA
Excellent product. Works as advertised. Wonderful service, fast and responsive. Would highly recommend.
Stephanie G. – Macon, GA
David, Thank you so much for being willing to fit us in during such a crazy time of year. Hope you have a wonderful Christmas.
Chris and Edna G. – Macon, GA
DogWatch has saved us the stress of worrying if our two dogs will stay at home when we leave! David and Martha are always attentive and available to assist us with any questions. We've had DogWatch for nearly 10 years and recommend it to family and friends.
Camilla and George D. – Macon, GA
DogWatch is the perfect fence for our 100lb rescue dog. She learned her boundaries easily and has never broken out of range. This is a great comfort to us, knowing that she is safely in our yard. The Roddenberry's are quick to respond the couple of times we accidentally cut the fence. They even called to remind us when the collar battery needed changing. And, our dog loves her collar because she can swim in the pool while wearing it!
Dr. Ken and Jackie H. – Macon, GA
We have been long time customers of DogWatch and have been telling all of our friends for years that DogWatch is the way to go for pet containment. We have had 4 dogs of our own over the years as well as our daughter's "visiting dogs" learn to stay in our yard within the boundaries. David and Martha are a joy to work with! David is always responsive if we want to change the perimeter, replace a battery, train a puppy, or just check the system. We couldn't be happier!
Chris M.  – Gray, GA
I just wanted to drop you guys a line to tell you how pleased we are with the system. We've not had a minutes trouble out of it OR our dogs since the install. Thanks again for your help. Our dogs now STOP AT NOTHING. I'll tell all my friends about your fine product.
Maida E. – Macon, GA
Thanks for your promptness.
Eric, Macon – GA
I cannot imagine having a dog without DogWatch!
We have loved having DogWatch keep our two chocolate labs safely in our yard for the last 5 years. Whether we are at home or on a trip we always know where our dogs are. The system was extremely easy to use after the professional installation. A few easy training sessions were all that was required. The DogWatch system has required no maintenance except for the time I cut the wire in half while planting a tree. The wire was easily fixed, and we have had no problem since. We only have to change the batteries in the collars every 2 years. We love having the dogs well-contained in the parts of the yard where we want them to be without an imposing physical fence that would detract from our landscaping. I don't have any experience with other systems except to say that my neighbor put in a do-it-yourself system over several days. His dog is always running around in the street or in other people's yards. All of my other neighbors have DogWatch, and their dogs are always right in their yards.
Michael and Gaye S. – Macon, GA
Our experience with DogWatch has been fantastic! Our two dogs quickly learned the boundaries of our yard and have remained safely at home, even with passing temptations from foot traffic around our home. 
The DogWatch representatives were first class. They thoroughly explained the system at installation and were available to answer any questions we had afterward.
Phillip M. – Perry, GA 
My Hidden Fence has worked great since day one. David helped me train my dog and showed me how the fence worked. I have had the fence now for 3+ years now and have never had a major problem. David's service is GREAT! If I had a problem it was repaired in less than 24 hours. I highly recommend DogWatch to any dog owner who wants to keep their pet safe.
Bob H. – Macon, GA
You're great! When there is a problem , you come promptly when called. You take care of the problem. Leaving me an invoice means I do not have to be there for you to do your job. We have our system inside the house as well as in the yard. It works Great! Thanks! 
Jeff B. – Macon, GA
Great customer service!
David addresses problems with solutions; promptly and expertly.
He's up-to-date on technical improvements.
Only way to go to keep family dog engaged and happy!
Thanks from a 7 year customer!
Angie and Kyle H. – Macon, GA
David trained our 2 year old lab on the fence last summer. It took 20 minutes and only one small correction. We thought our dog was so brilliant!
We got a second dog... A sassy , but stubborn puppy. We thought she would have to be trained repeatedly. It took about 30/45 minutes and she has not crossed since! We were thinking our dogs were such fast learners...but the common denominator was the trainer, David. 
Thank you Dogwatch for the sense and security we feel with our pups being outside where they love to be.
Wes and Jill P. – Lizella, GA
We enjoyed working with both David and Martha. They both took the time to explain the Dogwatch product and customize for our needs.
Great Customer Service. Very courteous. They let me know they appreciate my business. I value that!
Will recommend DogWatch of Central Georgia to anyone.
Michael – Cochran, GA
I would just like to say how much of an enjoyable buying experience was had purchasing this fence from Dogwatch of Central Georgia. David and Martha were super professional and courteous through the whole buying experience. Martha was super fast to respond to any questions via email, and David did an excellent job installing and answering my questions while on site. He showed up when he said he would and did what he said he would do while here. I have had the fence almost 2 weeks and Milo has done great and is already enjoying the whole yard without me worrying if he is ok. I would definitely recommend this product.
Tell Us Your DogWatch Story!
We'd love to hear from you, too! Please consider filling out our customer feedback survey to tell us about your experience with DogWatch.